Promise Rings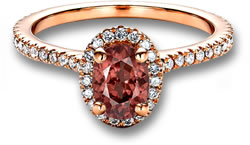 Rose Gold & Malaya Garnet Promise Ring
Gemstone jewelry, particularly rings, has always been connected with tokens of love, and promise rings are one of the jewelry items that signify the importance of a loving relationship. As the name suggests, promise rings stand for a pledge made. In many cases, a promise ring signifies a promise to marry or commit to a partner for people who are too young to marry or simply not ready for marriage. But they can also have other meanings, for example, a promise to be faithful or a promise to wait for somebody, or simply an intention to always be there for somebody.
Promise rings can also be given by friends or family members, or may even be bought by the wearer to serve as a reminder of a personal pledge, goal or something special. For example, the wearer may abstain from sex before marriage, promising to remain pure, and use a promise ring as a "purity" ring, or perhaps a promise ring could have religious significance. Promise rings can be worn on any finger. When a promise ring is a pre-engagement ring, it can be worn on the left ring finger. However, this can sometimes cause confusion, leading others (and in some cases, the wearer) to think that the ring is an engagement ring or wedding ring. Therefore, the right hand or left middle finger is often a good choice for a promise ring.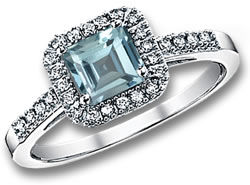 Aquamarine and White Gold Promise Ring
Promise rings may be given by both men and women, but one important thing to remember when giving a promise ring is that its meaning should be made clear, to avoid any misunderstanding or disappointment. A promise ring may also be engraved with symbols or initials that convey the meaning of the promise. When a promise ring signifies a commitment between two people, matching rings are a nice idea. For those who are planning to get married later, affordable gemstones and designs may be worth considering, since weddings are often very costly.
There are no definite rules regarding the design of promise rings, though heart-shaped gemstones are a popular choice for pre-engagement rings. A promise ring may be an engraved band, a solitaire gemstone ring or something a little different. Just as there are several reasons to wear a promise ring, when it comes to designing a promise ring, there are countless options, from the choice of metal to the colored gemstones used. A promise ring may accompanied by some sweet words, a poetic verse or a simple statement. Whatever the promise or ring design, as long as it comes from the heart, a promise ring, like its sentiment, should be for keeps.