Gemstone Prayer Beads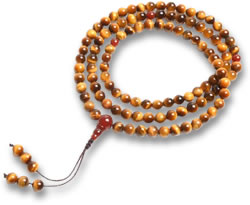 Tiger's Eye Prayer Beads
Prayer beads have been used by devotees of various religions for many years, including Christianity, Islam, Sikhism, Buddhism and Hinduism. Prayer beads tend to be used when prayers, chants or other phrases of devotion are recited repeatedly. The beads are held in the hands and felt by the fingers as each repetition is made, so that the mind of the devotee is focused on the prayers and their meaning, without needing to pay attention to the act of counting them. Prayer beads are also sometimes referred to as "worry beads" and may be used by people who are not religious, but use them as a calming activity, for quiet contemplation or mindfulness meditation.
The number of prayer beads differs according to the religious beliefs of the wearer. For example, Buddhist and Hindu prayer beads (mala) usually consist of 108 or 27 beads, where Islamic prayer beads (subha) have 99 or 33. Catholics tend to use 59 beads (rosary beads). The beads may have additional items, such as a cross for Catholics or a tassel on Buddhist prayer beads. These may have religious significance and/or serve to mark the end or beginning of the beads. The beads themselves also may be divided at intervals by markers. Prayer beads may take the form of a necklace, bracelet or even a ring. Some prayer beads are multifunctional; they can be worn as a necklace or wrapped several times around the wrist as a bracelet.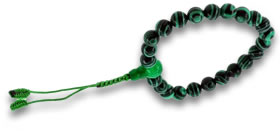 Malachite Mala Bead Bracelet
Prayer beads may be constructed from various materials, such as wood, seeds, bone, plastic, glass, gemstones or precious metal. The material from which the beads are made may have religious significance; for example, Tibetan Buddhist prayer beads can be constructed from the bone of a deceased lama and Hindu prayer beads may be made from sacred tulsi (holy basil) wood. Additionally, prayer beads made from precious materials are said by some to purify the mind. According to crystal healing beliefs, gemstones possess properties that have a positive effect on the wearer. Such properties are taken into account when choosing a gem type for prayer beads. Organic gems such as amber and coral are popular materials for prayer beads. They are thought to have a nice feel. The beads are strung with thread which also varies in composition; it may be nylon, silk or another material. Space or knots between the beads help the beads to be easily movable.
While prayer beads were originally designed for spiritual use, they are sometimes also worn for fashion or status. Like all gemstone jewelry, prayer beads may be made from affordable or extremely valuable materials. Some materials are more suitable than others due to their hardness and durability. Prayer beads made from pearls are better reserved for decoration than frequent practical use, since when pearls are rubbed against each other the surface layer will gradually wear down over time. However, materials such as quartz and jade are hardier and will last.
Whether prayer beads are worn for prayer, anxiety, meditation or decoration, they are an attractive and casual jewelry item that can be worn anywhere. For those who like to experiment with making their own jewelry, prayer beads are easy to construct at home with minimal materials and loose gemstone beads. What's more, when making your own prayer beads, you can choose the length, gem types and design.