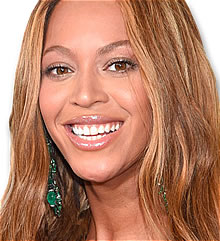 Beyoncé's Grammy Award Emerald Earrings
Lovers of gemstone jewelry are sure to seek inspiration from Hollywood. Some of the most dazzling jewels are worn at award ceremonies, and this year's award ceremonies were no exception. Diamonds are often the gem of choice, but if you look closely, some interesting colored gem combinations and designs could be seen on the red carpet. Those who dared to be different were wearing colored gemstones. Here are a few of the choices made by the stars so far this year.
True Blue
At the Golden Globe Awards, Emily Blunt wore a suite of Lorraine Schwartz diamond and Paraiba tourmaline jewelry with floral motifs that provided a perfect compliment and a flash of color to her Grecian style white gown.
Cindy Crawford wore Harry Winston platinum earrings which showed off two matched cushion-cut blue sapphires surrounded by pave white diamonds. The blue sapphires suited her blue Versace dress with its white metal detail. Claire Danes, who appeared in Homeland also wore blue sapphires, in the form of floral earrings, a blue sapphire ring and a colored gemstone bracelet, also by Lorraine Schwartz. Kate Beckinsdale's earrings were also by Lorraine Schwartz, and were blackened gold tassels with champagne diamonds.
Tassels were also worn by Margot Robbie on her Van Cleef & Arpels Zip Necklace, with a reported value of $1.5 million, which was yellow gold surrounded by blue sapphires and white diamonds and ending in a blue sapphire beaded tassle. The yellow gold complimented her golden hair, whilst the cooler toned white diamond and blue sapphire created a transition between her blonde hair and black dress. Anna Wintour showed off a more gentle blue, but nevertheless equally dramatic due to its enormous proportions; a very large aquamarine necklace pendant.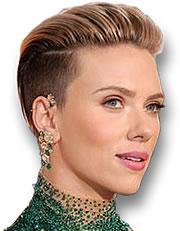 Scarlett Johansson's Emerald, Aquamarine & Green Tourmaline Ear Cuff
Dita von Teese wore blue topaz, diamond and tsavorite garnet dangle earrings by Avakian. The saying "blue and green should never be seen" no longer applies when it comes to modern fashion and jewelry. This also applied to Scarlet Johansson's jewelry. She showed off a Piaget emerald ear cuff at the 2015 Oscars, which also featured aquamarines and green tourmaline gems. Taylor Swift continued the blue and green vibe at the Grammy's with bold Lorraine Schwartz black opal and Paraiba tourmaline earrings and opal rings, worth an estimated $1 million in total.
Serene Green
Classic emerald green with a twist could be seen on the ears of Leslie Mann at the Golden Globes. She wore an interesting pair of emerald slice and boulder opal dangle earrings by Kimberly McDonald. Extremely large emerald baguette earrings were worn by Jennifer Hudson to the Oscars. More subtle pear-shaped, emerald drop earrings were glittering on the ears of Melanie Griffith. The Grammy Awards saw an incredible amount of jewels displayed by Beyoncé, who wore Lorraine Schwartz emerald and diamond jewelry that was rumoured to be worth $10 million, including emerald and diamond chandelier earrings. Lady Gaga also showed off Lorraine Schwartz emeralds, with pear-shaped drop earrings, an emerald bracelet and a large pear-shaped emerald necklace pendant.
Ladies in Red
Helen Mirren wore ruby and diamond Chopard earrings to the Oscars. Ruby earrings were also chosen by Anna Kendrick and designed by Fred Leighton. Globe winner, Joanna Froggatt wore earrings of ruby and diamond set in rose gold, by Casato. An alternative red was seen on Gwynneth Paltrow at the 2015 Academy Awards. Paltrow wore dazzling rubellite jewels; pear-shaped cabochon dangle earrings accented by white and yellow diamonds, pink and purple sapphire, spinel and Paraiba tourmaline. These and her 6-carat pigeon's blood Burmese ruby ring were designed by Anna Hu.
Violet Vision
Actress, Lupita Nyong'o wore the most daring outfit of the Golden Globe Ceremony and was a violet vision in a purple gown and complimentary cushion-cut peridot and amethyst briolette drop earrings by Chopard. Nyong'o later wowed at the Oscars when she wore a stunning white dress with an amazing 6000 cultured pearls in strands around the neck and bodice.
Comedian, Amy Poehler, who opened the Golden Globes along with her co-star, Tina Fey, made a bold statement with a purple dress and Irene Neuwirth jewelry, including a large labradorite and diamond necklace and colored gemstone bracelets on both wrists.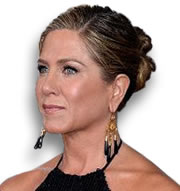 Jennifer Aniston's Black Onyx & Yellow Gold Earrings
Daring to be Different
Some more interesting Golden Globe gems were seen on Melissa McCarthy, who showed off an interesting combination of hematite and diamond in her dangle earrings. Another dark colored pair of earrings were Jennifer Aniston's black onyx earrings set in yellow gold by Neil Lane.
Maura Tierney wore a large pair of beautiful deep-blue lapis lazuli dangle earrings. Sofia Vergara wore a black dress and added color with a large Lorraine Schwartz turquoise bib necklace with a floral design. Vergara is known for her flamboyant style, and previously made an impact at the 2013 Emmy's with a reported $7 million worth of rubies, sapphires and large Colombian emeralds.
In a similar vein to Sofia Vergara, Cate Blanchett wore a dramatic Tiffany & Co. turquoise bib necklace over a black dress to the Oscars. The turquoise gems were accompanied by aquamarine and diamonds and set in platinum. Her black-lined blue eyes combined the colors of her necklace and the dress.
To sum up, it seems that blue and green are very popular so far this year and unique, rather than generic designs are preferred by most. We hope that you enjoyed reading about some of the 2015 colored gemstones on the red carpet, and that they will provide you with some good ideas for your own jewelry pieces, whether the jewelry is for your own enjoyment or custom made for a client.